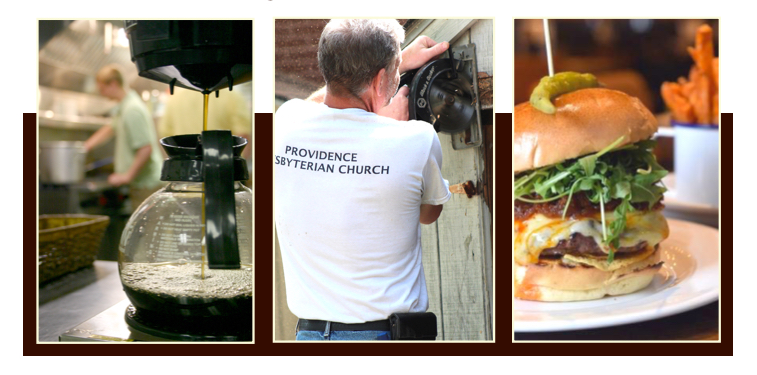 The Men's Fellowship at Providence meets monthly from September through June, allowing time to try new restaurants while making a difference in the world. Each quarter includes a good old-fashioned brea
kfast at 7:30am before heading out at 8:30 to do a mission project, a trip outside the walls of Providence to try a new restaurant for dinner, and a time to get back to the roots of the group and enjoy dinner in the Fellowship Hall.


For more information, contact Pastor Jeff Bell, pastor@provpres.org, Pastor Billy Ricketts, familylife@provpres.org, or call the church office, (757) 420-6159.

2015-2016 schedule
Saturday, September 12, 2015
Breakfast at Providence at 7:30am
followed by Mission Opportunity at 8:30am
(ODU Campus Ministry House)
Thursday, October 1, 2015
Dinner Out at 6:30pm
Thursday, November 5, 2015
Dinner at Providence at 6:30pm
Saturday, December 5, 2015
Breakfast at Providence at 7:30am
followed by Mission Opportunity at 8:30am
(Site surveys for homes in need of repair for Workcamp Virginia Beach 2016)
Thursday, January 7, 2016
Dinner Out at 6:30pm
Saturday, February 13, 2016
Annual Valentine's Dinner
hosted by the Providence Men's Fellowship
Saturday, March 5, 2016
Breakfast at Providence at 7:30am
followed by Mission Opportunity at 8:30am
Thursday, April 7, 2016
Dinner Out at 6:30pm
Thursday, May 6, 2016
Dinner at Providence at 6:30pm
Thursday, June 2, 2016
Year-end Men's BBQ at Providence at 6:30pm