Music is an integral part of Worship and Christian Education. Our Church is blessed with an exceptional Music Department with many opportunities for all ages to participate in "making a joyful noise unto the Lord."
We have both singing and handbell choirs and a number of talented musicians who make-up an exciting and inspirational music ministry. New singers and ringers are always welcome!
Our musical groups include:

Special Events:
https://youtu.be/o_HLpadO6Ck
Published on Dec 23, 2016
Christmas Vespers 2016 Providence Presbyterian Church Virginia Beach December 11 2016

Vespers is the sunset evening prayer service in the Orthodox, Western and Eastern Catholic, Anglican, and Lutheran liturgies of the canonical hours. The word comes from the Greek ἑσπέρα ("hespera") and the Latin vesper, meaning "evening". It is also referred to in the Anglican tradition as evening prayer or evensong.
Chancel Choir
If you're an adult who loves to sing, even though you may not have strong music reading skills, this group's for you! The Chancel Choir sings most Sunday mornings during the Worship Service. Rehearsals are held weekly on Wednesday evenings from 7:30 to 9:00 PM. Anthems for the Sunday Service are rehearsed for several weeks prior to their presentation, so that everyone is comfortable with the music.
Youth Music
Singing, ringing, and instrumental talents all come into play within this group. This middle and high school group meets on Sundays from 5:30 to 6:00 PM prior to scheduled Youth Group Meetings.
Kirkmusik
A music program for Pre-K through Grade 2 children. Valetta Fellenbaum, Providence Presbyterian Church Music director, leads the half-hour session that includes singing, playing hand-held and mallet instruments, and learning the language of music. The program is held in conjunction with our "Kirk Night" - or "Church Night" - dinner and program for adults.
Bells of Providence
This adult handbell choir is comprised of experienced ringers who work with five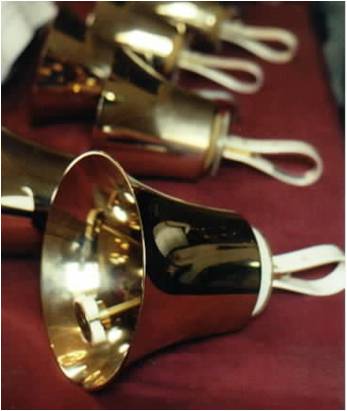 octaves of handbells. They play frequently in the Sunday Worship Service and often perform in support of local community events. Music reading skills are essential to feel comfortable in this group. The group learns bell technique and enjoys exciting musical challenges. They rehearse on Tuesday evenings from 7:00 to 9:00 PM.
Merry Bells
This adult handbell choir is for those with an ability to read music but with little to no ringing experience. If you want to learn more about music and bells, this is the group for you! The group meets on Sunday mornings at 9:00 AM.

Click here to view a video of the Bells of Providence performing at the Chrysler Museum, December 2018