Rev. Dr. Jeffrey S. Bell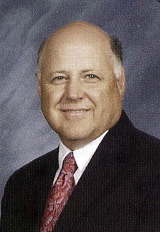 Pastor Bell is a warm, thoughtful and insightful man, with strong family values and a good sense of humor. He is an effective leader and tries to involve every member in the life and work of the Church.
Beginning his ministry here at Providence Presbyterian Church on July 1, 2000 Pastor Bell has both guided and challenged the congregation to further Christ's Gospel in the community and the world.
"One of my big things in worship is to make a dusty Bible relevant in today's world. How do you take 2,000-year-old words and apply them to today with kids, marriages, work and stress? What are the kernels of truth that we can take and apply to our lives?"

----- Pastor Jeffrey Bell -----
Before answering the call at Providence Presbyterian Church, Pastor Bell served the First Presbyterian Church in Horseheads, New York.
He has also pastored Southminster Presbyterian Church and acted as Associate Pastor for First Presbyterian Church from 1982 through 1986. Both churches are located in Cumberland, Maryland.
Pastor Bell is an interesting and thought-provoking preacher who believes in 15-minute, three-point sermons.
He is comfortable with all age groups and enjoys teaching Bible studies. He is a member of the Chancel Choir, Handbell Choir, and takes an active role in many other church-family endeavors.
The entire Bell family is actively involved in the work of the Church. Pastor Bell's wife, Sue, is a practicing school nurse and has blessed our own Church community with her skills in health care. She was formally installed as "Parish Nurse" and helped launch the Church's Wellness Program bringing practical ideas on health and wellness to our congregation on a regular basis.
The Bell's have two sons. Oldest son Chris and wife Megan have a young daughter and son giving Rev. Bell claim to the title of "grandfather." Younger Son Andy is a graduate of Christopher Newport University.
The Bell family shares interests in boating, camping, skiing and music.