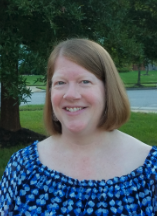 Rev. Libby Rollins
Interim Pastor

Libby is a lifelong Presbyterian, born and raised in Birmingham, AL. She is a graduate of Presbyterian College in Clinton, SC and Columbia Theological Seminary in Decatur, GA.

Before moving to this area, she served churches in Georgia and Alabama. Since coming to Virginia twelve years ago, she has served 7 churches in this presbytery as Interim during their times of pastoral transitions.

She and her husband David, also a Presbyterian Pastor, have one son.