Project Light
Changing Lives through Literacy

The Project Light Learning Center at Providence Presbyterian Church provides hope to those in our community who do not have functional reading skills or a high school diploma, or who cannot speak English fluently.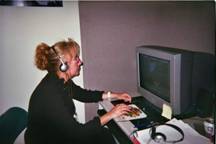 Utilizing interactive software, this computerized outreach ministry offers free tutoring to help children and adults learn to read, improve reading skills or learn English as a Second Language.
Additional software prepares those who did not finish high school to take the GED test. The program may also be of benefit to those who have been diagnosed with learning challenges or disabilities.
The Project Light software also includes Bible stories and scripture readings with the goal of bringing the light of Christ as well as the light of learning to students in the program.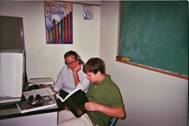 Classes are held at Providence twice a week on Tuesday and Thursday at 5:00pm. The one-hour class, which meets from September through May, follow the Virginia Beach Public Schools calendar.
Volunteer tutors provide one-on-one assistance to each student Anyone desiring to reach out to their community can become a tutor. Learning Center tutors do not need to be educators; the computers do the teaching. Providence provides training on use of the software. The only requirement is a desire to help others.